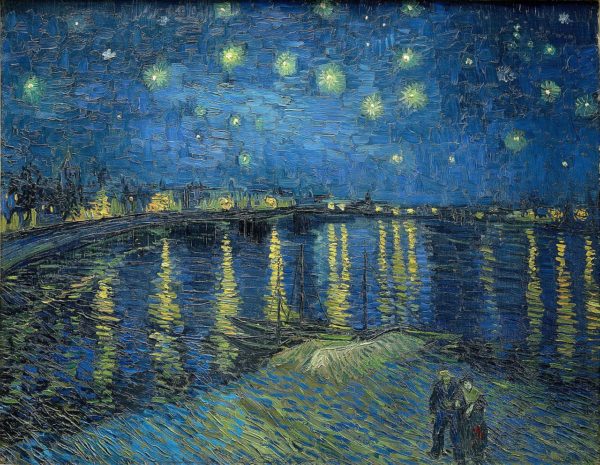 When it comes to my job as an editor, as long as I'm connected to writers via telecommunications, I could be living on a star surrounded by infinity. But, it is nice to know that, living on planet Earth, I can meet Melbourne clients face-to-face. Most of my clients' favoured method of communication is by email or phone.  However, I understand that it is of some comfort to know that such a personal service is being provided by an editor who lives in the vicinity.
Our world seems to be shrinking, like a dried-up, orange-clove pomander, so does it really matter where your editor lives? Because my expertise is in the sister arts of the visual and the written, clients from all over have found me on the Internet via my articles, and made contact if their particular interests connect with mine. New clients have often told me that upon reading some of my articles on my travels, art and writing, they have an idea that there may be a synergy and understanding between us that goes beyond the traditional editor/author relationship. On the other hand, there are authors who prefer an arms-length, less-friendly relationship to ensure objectivity. So even though I mainly work with Melbourne authors, sometimes I'm approached by authors beyond Melbourne who are of the opinion that 'distance' from each other is a distinct advantage!
I have written an article 'Before Editing Begins', which outlines the process I undertake when I am approached by a potential client who has written a fiction or non-fiction manuscript. Of late, I've been asked to edit manuscripts for two writers demoralised by manuscript assessors who demonised their writing because grammar rules associated with writing fiction were not followed; for example, 'Show don't tell (!)': some editors and mentors are adamant—never tell the reader something, show them! So, if a novice writer understands the 'rule', he or she can end up writing sentence after over-blown sentence to describe something—a character trait, or a view from a window—instead of sticking with a gut-feeling that writing one sentence would be sufficient in a particular situation. For example, take your pick:
Tell: Ted realised that Mabel was a gifted piano player when he walked into the room.
Show: Ted could hear the piano being played as he walked through the front door. He marvelled at what beauty could be extracted from the old antique that had sat idle for a couple of decades. He was curious. He almost fell over when he walked into the living room and saw Mabel sitting at the piano.
I advise a balance: a combo of tells and shows, which provides a rhythm and balance to your writing—but more shows than tells is recommended.
A final word from Anton Chekhov: Don't tell me the moon is shining; show me the glint of light on broken glass.
More on 'Show don't tell' (show and tell?) another time. Back to . . .
Editor Melbourne
Yes, I'm a useful editor if a writer has set his or her story in Melbourne, or if an article has been written about a work of art in the National Gallery of Victoria, or if a thesis focuses on an aspect of Melbourne's social and cultural history, or if there's a sticking point, and a meeting could be useful—which of course I couldn't do if I lived in a different state to the writer, or on the other side of the world. Then again, if I lived and worked in London and was editing a Melbourne author's manuscript, I could still google the NGV's Collection and scroll through the State Library of Victoria's online resources. Maybe I'll give that some more thought . . .
A current client, who lives locally, is working on a non-fiction project, which will take up to a year to complete. He wrote in an email:
I am old fashioned. I like to meet people with whom I intend to work with for some time. In this modern era there are so many ways to communicate but the very best still remains to meet in person.
Another client has written a fascinating Young Adult story that reminds me of a Tolkien tale. The author spent in excess of three years writing it, and approached me about editing what he had written because he had read my articles and thought we had a similar 'sensibility'.
Unfortunately, this writer has already submitted to a few mainstream publishers and was disappointed with a lack of interest. I was shown the covering 'pitch' letter and synopsis that were sent to the publishers. I immediately felt the pain of his rejections. Fortunately he is open-minded, and acknowledged my 'gentle' scolding. I set to work and started editing his manuscript, suggesting changes, highlighting passages/words that might have issues. This was his welcome response, which is always a relief:
What I particularly like is that you have really nailed many of the problems I was aware of but stumped how to fix–your edits are very clean and the suggestions throw it back to me to reword, rethink and redraft when the issue is bigger. 
If you think your manuscript is ready for submission before engaging an editor, think again. Believe me, publishers are overwhelmed by submissions, and if they can find an excuse to dump a manuscript into the too-hard pile, they will have no hesitation; it is often because there are so many blatant writing mistakes that could have been corrected by investing in an editor's service. In these instances, a deadly mistake has been made: publishers who have rejected a manuscript will rarely agree to consider it again once it has been edited.
This scenario repeats itself over and over. A couple of my clients who experienced the same 'pain', argued that they were encouraged by friends to submit their manuscripts without having them edited, or even proofread, because "publishers have editors". They agreed that not only did they have stars in their eyes, but they had rocks in their heads!
Post script: I have chosen Vincent van Gogh's Starry night over the Rhône (September 1888) as my featured image for this article as a prompt for reflection on the broad, multi-faceted editor/author relationship that could be forged within the same city, or between two cities within one country, or between two countries straddling our ever-shrinking world.
If you're ready to have your writing edited, or you would like an appraisal of your writing, whether it is a complete manuscript or a work-in-progress, then please email me via my contact page with a brief overview of your needs and I will give you an idea of the type of personalised service/s I can offer that I think would best suit you at this stage in your writing project (mentoring, manuscript appraisal, editing, proofreading).