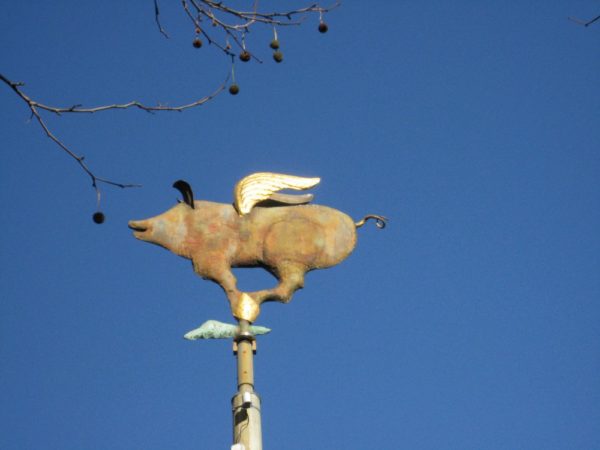 There's a pig flying down Swanston Street. I saw it only recently on a cold wintry day in Melbourne as I waited for the lights to turn green at the Burke Street intersection. The sun was shining and the sky was so blue that I looked up and there it was … a pig with wings, balancing on top of a tram pole. It was poised as if ready to beat its wings and take off down Swanston Street. A young man beside me at the lights mumbled: "Pigs fly!"
I smiled at him and nodded in silent agreement as I stood there studying the gleaming pig for a few minutes, refusing at least four commands by the green walking man to cross Burke Street. It soon became obvious that the flying pig had company—a horse, a bird and a fish—all perched high up on tram poles on the other corners of the intersection. I've since found out that this is a work of art by artist Daniel Jenkins (born 1947) called 'Windvanes'. The flying pig is made of hand-beaten copper and apparently represents the future (a future 'when pigs fly'?), the horse symbolises culture and sport (and beauty!), the fish suggests Victorian waterways (long may they both flourish), and the bird codifies Melbourne's parks (and suburbs).
The Jenkins 'flying pig' is a perfect example of the increasing supply and stimulus of street art in cities around the world today. Street art is so important to the psyche of a place and is being embraced more and more in my home town, Melbourne. Actively seeking meaning and making subjective associations with art (and architecture) we pass by on a daily basis is a stimulus which promotes well-being through connection. It also helps to train us to become more observant travellers as we visit foreign places.
So keep an eye out for that flying copper pig as it contemplates the future of Swanston Street. Actually that brings me to the present situation of Swanston Street, that 'solid spine' running north-south; a street integral to the Hoddle grid of central Melbourne set in place in 1837. The CBD grid has always been bold yellow on Google Maps. A few months ago Swanston Street was a thin grey line between the City Baths at Franklin Street and Flinders Street Railway Station and now it has morphed into a hiccup of grey and yellow. Is this because cars have been banned between Franklin Street and Flinders Street? But Swanston Street still has trams and also provides access to many of Melbourne's major historic buildings, such the State Library of Victoria, impressive galleries of art, sculptures and street art.
Bah and humbug, Mr Google! I call for the return of this iconic street of culture as a solid yellow line on Google Maps. Maybe I'm making a 'mountain out of molehill' (don't you love adynatons like 'when pigs fly' or 'when Hell freezes over'? A figure of speech so hyperbolic that it describes an impossibility) but if any street in Melbourne is most representational of the city's past, present and future then it has to be Swanston Street. So, respect, Mr Google, please!
In the meantime, you may like to see why Swanston Street is so important to Melbourne's historical and cultural life by taking my self-guided walking tour, The Art of Melbourne: Swanston Street. (I know what you're saying: "What shameful self-promotion"! Ahem, I do apologise).
Long may our pig with its wings tinged with gold fly over Swanston Street!