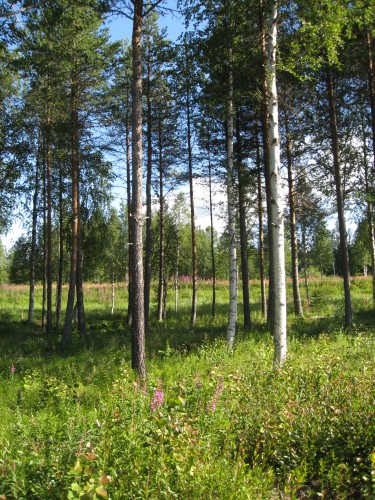 As the summer sun disappeared behind the silver birches and a silent dusk cloaked our backyard, I was transported back to Sweden for just one moment. Over a year ago (30 June 2011) we had flown into Stockholm Arlanda airport.
The stark white building, surrounded by a dense green forest, with its fragrant timber-lined interior, confirmed my stereotypical images of Sweden in summer: crisp, clean colour and minimalist form imitated from nature. Qantas had delivered us from Melbourne via London on time and an extremely clean Arlanda Express train whisked us from the airport to the centre of Stockholm in less than 20 minutes. Ah yes! Not cheap, but Swedish streamlined efficiency was already seductive. The sapphire-blue sky intensified the sunlight as we walked through the exit of Stockholm's Central Station at about 1pm. The grey wintry skies of Melbourne were soon forgotten …
We were looking forward to experiencing the continuous daylight of a northern summer which Mary Wollstonecraft (of Vindication of the Rights of Women fame) described in her letter of 1796 as "short, it is true; but 'passing sweet'" (probably gleaned from William Cowper's, Retirement, (1782), 1.737: 'How sweet, how passing sweet is solitude!'). Mary had travelled from Paris to Sweden and Norway during the northern summer of 1796. After the bloody streets of revolutionary Paris, these "rough" northern countries with their natural untamed beauty would have seemed sweet indeed.
The taxi rank was before us. A dark-haired, brown-eyed cabbie flashed his white teeth at us and moved quickly towards us, extending a friendly invitation to take his taxi. He didn't fit the Nordic male model of blonde and icy-cool. We dumped our sleek new (and minimalist) luggage into the boot of his taxi and told him that we had booked a room at the Lady Hamilton Hotel in Gamla Stan (Stockholm's Old Town). Off we flew. Our animated driver called to us over his shoulder: "Have you heard the one about the three 'w's you can't trust?" I knew where this may have been heading but I politely went along with his friendly banter. I suggested 'weather'. Oh yes, I was on the money—he was enjoying himself. We were pressed for suggestions of the other two words. My husband sucked himself deep into the opposite corner of the back seat: "Women?" he whispered. The cabbie roared laughing: "Oh yes! You certainly can't trust women, can you?" Was he asking me? My husband smiled a smile which infuriated me even more. The third word starting with 'w' was forgotten because we had reached our destination already; or so we thought.
The taxi came to a jarring halt at the beginning (or end) of a narrow cobble-stoned street and the comedic taxi man told us that our hotel was just a short distance down on the left. I detected hesitation in his voice and his grin had disappeared. Cars could not enter so we duly paid him, thanked him, said our goodbyes and stumbled across the uneven cobblestones, pulling our luggage (begrudgingly because of the new wheels) to the Victory Hotel. Yes, The Victory was Lord Nelson's flagship and Lady Hamilton was his mistress, so I suppose it would be easy to confuse the two hotels. We turned to see our heathen waving wildly at us. "Come back, come back! Wrong hotel. Sorry!" I would have preferred to be given a map of Gamla Stan to find our own way through the maze of streets to the Lady Hamilton hotel. However, I doubted that this man was going to let us go until we had guessed the third 'w' word you can't trust. A short taxi ride, but not very "passing sweet"!
We eventually fell into our room at the Lady Hamilton Hotel, totally exhausted and mildly delusional. Our conversation went something like this before we succumbed to sleep:
"Oh, there's no air conditioning. Open the window and check the fridge."
"Water or wine?"
"Let's drink the water – can't trust the wine" …
Long summer days passed …
It was midnight, 13 July 2011, and a golden sun was still hovering close to the horizon. The camping ground where we were staying that night was in Swedish Lappland, 333 miles from the Arctic Circle, which we would cross the next day (with extreme satisfaction). I was tired and wanted to sleep, but I still found it weird not to be able to turn out a light and melt into the darkness. It was icy-cold in the camper and we wore layers of clothes. A few socks were spared to plug up fingers of impudent sunlight reaching inside.
One advantage of staying awake all night with the sun out was that we could spot bears if any randomly approached our van. According to the elderly and sleepy (no wonder) campground owner: "This is bear country."  Oh, great … I still smile when I recall my husband sprinting back from the shower block, charging through the camper door, pulling up the step and slamming the door closed.
We ate our evening meal late, mesmerised by the shades of mauve, yellow, pink, white and grey streaking across the blue sky. Mary Wollstonecraft's response to the northern night sky in summer is apt:
Nothing in fact can equal the beauty of the northern summer's evening and night: if night it may be called that only wants the glare of day, the full light, which frequently seems so impertinent.
Our Arctic challenge involved a lot of driving—mile after mile of forest and roadside wildflowers. Silver birches grow wild in harmony with aspen, blanketed together under snow during the winter months. Mary was intoxicated by this place when she travelled around Norway and Sweden in the "short, but passing sweet" summer of 1796 (without the aid of a taxi or a campervan). Here is her sensory description of the Nordic forest growing out of "iron-sinewed rocks":
Sheltered from the north and eastern winds, nothing can exceed the salubrity, the soft freshness of the western gales. In the evening they also die away; the aspen leaves tremble into stillness, and reposing nature seems to be warmed by the moon, which here assumes a genial aspect: and if a light shower has chanced to fall with the sun, the juniper, the underwood of the forest, exhales a wild perfume, mixed with a thousand nameless sweets that, soothing the heart, leave images in the memory which the imagination will ever hold dear.
I'm with you, Mary … thanks for the memories, Sweden.