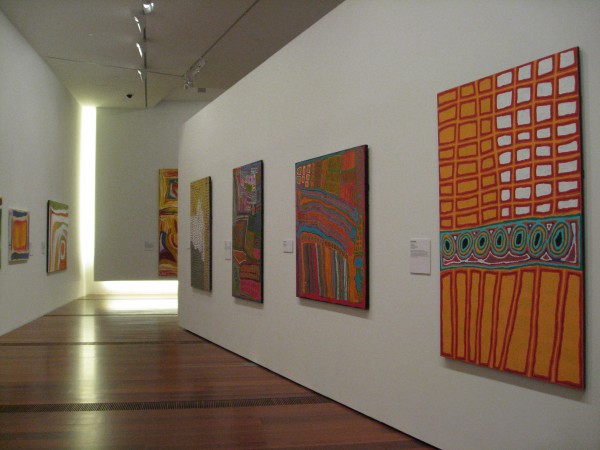 On 24 May 2011 the National Gallery of Victoria (NGV) celebrated its 150th birthday, and on that day an exhibition displaying 107 vibrant paintings by 94 contemporary male and female Aboriginal artists living in the remote desert region of Western and South Australia (the Far Western Desert) opened at the NGV Ian Potter Centre (NGVA), Fed Square. You have until the 3 February 2013 to visit this exhibition: Living Water: Contemporary Art of the Western Desert. The paintings were gifted by the Felton Bequest (Melbourne philanthropist, Alfred Felton, bequeathed a substantial amount of money to the NGV when he died in 1904) to mark this important milestone in the history of the NGV. These artworks embody tradition, ancient culture, the senses, identity, memory and place within a western framework of marketability and display.
'Living water' refers to places scattered throughout the Far Western Desert where water can be found, even in times of drought. Most of the artists were born in this remote region of Australia and relate their attachment to a particular rock hole, salt pan or water soakage fed by underground springs. These water sources provide more than physical sustenance. The artists believe that their ancestral spirits of the tjukurrpa (Dreaming stories) live beneath the water and, accordingly, these Living Water contemporary paintings are both aerial maps of the artists' ngurra (country) dotted with waterholes, and ancestral pathways. Dreaming stories are passed from generation to generation ensuring continued connection with a specific place where water gives life.
It is worthwhile to keep in mind that much of the Aboriginal art we see in our galleries today has been hijacked by the west and yet has remained rooted in ancestral narratives and connection to the land. Senior curator of Australian Indigenous art at NGVA, Judith Ryan, is compelling in her comparison of Aboriginal art (it) with western art:
It is raw, uncontrived, sprawling with life, rather than calculated, cooked or overworked. Unlike western art, it is concerned not with mimetic 'truth' and the mirroring of nature, or with the brush as a camera, but with elements of life … living lines directly brushed. The land is painted from the inside, with the mind's eye, and revealed in organic symbols as if through its bones.
(Judith Ryan, 'The raw and the cooked: The aesthetic principle in Aboriginal art', Art Bulletin of Victoria, Vol. 36, 1996)
The application of synthetic paint onto canvas by Aboriginal artists is a recent western manifestation of body and bark painting, rock and sand art, even designs carved or painted onto wooden shields. In 1971 an idealistic art teacher, Geoffrey Bardon, encouraged a few Aboriginal men at Papunya, about 250 kilometres north-west of Alice Springs in the Northern Territory, to paint their designs, symbols and sacred stories on any scrap of tin, board or panel they could scrounge. It was a way of remembering their ngurra from which they had been 'removed' by the Australian Government and placed into soulless settlements. Initially, traditional crushed ochres (earth colours) were used for paint, but gradually, fast drying, colourful acrylic paints were preferred.
'Yimiri' is one of the paintings on display in this Living Water exhibition. It was painted in 2009 using synthetic polymer paint on canvas and depicts a dynamic aerial 'map' of the remote desert area in Western Australia where they live. This land belongs to the Martu people and spans the Great Sandy, Little Sandy and Gibson Deserts. 'Yimiri' depicts two small fresh water soaks (yinta) painted in vivid blue and surrounded by green within a vast white space which represents a shimmering salt lake (part of the Percival Lakes). Two tiny trees anchor the red horizontal lines hugging the white expanse, suggesting life on the edge of the water. The absence of any horizon line expresses the artists' spatial affinity with the land—their ancestral place. However, this painting is much more than a map or a landscape of the sisters' homeland. Journeying pathways of their ancestral spirits are painted in brilliant colours around the salt lake creating a visual vibration of spiritual resonance.
Three young urban art-school trained Aboriginal artists, Vernon Ah Kee, Brook Andrew and Jonathan Jones were commissioned to devise art installations for the 2011 NGV birthday celebration. Each artist paid tribute to William Barak (1824-1903), local (Wurundjeri) elder, artist and spokesman for Aboriginal social justice at a time when his people were substantially dislocated and disempowered by European settlers. The Vernon Ah Kee multi-media work, 'Ideas of Barak' (2011), is installed in a cubbyhole facing a back wall amidst the desert paintings of Living Water. Visitors may wonder what it is doing there. The installation is in three parts: an AV presentation of William Barak's country, Brushy Creek (where he was born); AV five channel video presentation of conversations between prominent people as they reflect on how Barak has inspired them; a large charcoal portrait of Barak (Image 2) addresses the viewer directly, communicating a defiant strength.
These vivid Living Water paintings produced by artists from the Far Western Desert of Australia, and Vernon Ah Kee's installation honouring William Barak, draw upon the past which is ever-present in the Aboriginal psyche and spirit. The NGV is committed to celebrating the continuity, re-invention and transformation of the ancient tradition of Australian indigenous art and this Living Water exhibition assists in the understanding of how contemporary Aboriginal art has achieved (and is continuing to achieve) a strong presence within the broader global art community. After this show finishes most of these paintings from the Far Western Desert will go into storage so don't miss this opportunity to view them altogether in one interconnecting gallery space.
There is an excellent exhibition booklet which details the background of the artists and contains many images of the paintings: Judith Ryan, 'Living Water: Contemporary Art of Far Western Desert', Melbourne: National Gallery of Victoria, 2011.