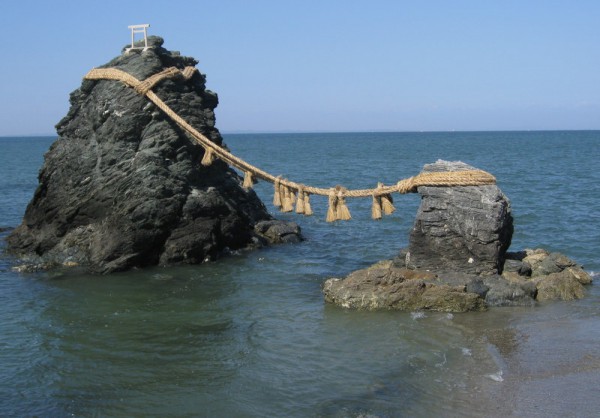 It took three hours from Kyoto by train and bus (make that 6 hours return), but it was worth it … My friend with whom I was travelling had kindly acquiesced and agreed to my bizarre pilgrimage to see two rocks in the Genkai sea (the southwestern tip of the Sea of Japan).  For some reason, when Gary Hickey, our learned lecturer on Japanese art at Melbourne University, talked about those rocks as art, I knew that one day I would visit them and experience the ancient Shintō aura of this sacred place.  But can two rocks be art?
Our Japan Rail Pass gave us multiple choices—we could travel to so many excellent destinations on fast bullet trains.  The alternatives were slow trains and local buses which we enjoyed when we visited exquisite temples and gardens buried in pockets of crowded cities.  We used all three modes of transport on that sunny April day in 2010 when we travelled to the Shima Peninsula to find those two rocks.  From Kyoto, we caught the bullet train to Nagoya then changed trains to travel down to Ise-shi station.  Good views along the way? Well, only if you enjoy kilometre after kilometre of urban sludge: endless roof tops and grey concrete buildings made up of flats, factories and office blocks.  However, if you look hard enough you will see a green Japan beyond the tangle of overhead wires (I digress, but, on another day when we failed to see Mt. Fuji close up due to low cloud, we were told by a Russian couple we met afterwards that if we'd been more attentive to the distant horizon on our return train journey to Tokyo we would have glimpsed the great mountain in the distance …)
Yes, we saw trees beyond the sprawling 'sludge' and I assumed that the Shintō kami would be safely housed within their earth-bound roots.  Kami (Shintō gods of heaven and earth) may be human beings, birds, animals, trees, plants, wind, mountains, ocean and … rocks.  The deep spiritual affinity that the Japanese have with nature is not only the basis of their identity and culture, but also embodied in their native religions: Shintō, Zen and Buddhism. Accordingly, the subject matter of traditional Japanese art is predominantly nature-related. Wabi (the quality of frugality/restrained beauty)and sabi (patina of age/veil of antiquity) relate to Japanese aesthetics and the belief that beauty can be seen in the irregular, the asymmetrical and the imperfection of natural materials, which ultimately achieves a higher state of expression – 'zen'.  The viewer has to draw out the inner beauty (shibui) for him or herself. You could say that the viewer becomes the artist.
The bus from Ise-shi station wound its way through a variety of unremarkable suburbs towards the sea.  For a breather, we stopped off to visit one of the most sacred Shintō shrines in Japan, the Ise-jingu outer and inner shrines. Unfortunately we only had time to see the outer shrine (Geku, dating from the 5th century) set amongst a tall forest of majestic trees. We were learning that Japan is a country of contrasts with sprawling cities, space-age modernity, ancient art forms, peaceful temples, sublime gardens and towering forests.
Back on the bus we continued on until we finally saw the sea beyond the rooftops of the grungy seaside buildings.  We left the bus at an Aquarium in a small town called Futaminoura and made our way to the beach along a concrete pathway.  This wasn't what I was expecting for a place designated as sacred to the Japanese.  But the sun was shining, the sky was a deep blue and the sea seemed to shimmer with the spirit of kami. Around a rocky outcrop, and there they were: the meoto-iwa (wedded rocks) just off–shore with the sea lapping at their 'feet'.   This was a 'zen' moment for me.
These two rocks represent the marriage of the creator gods Izanagi and Izanami. The larger (male) rock is approximately 9 metres tall and 40 metres around; the smaller (female) rock, 3.6 metres high and 9 metres around. The meoto-iwa are connected with a shimenawa (a sacred rope made of rice straw), a marker which signifies the abode of a kami.  But the most unmistakable indication of the presence of a kami is the familiar Shintō shrine with no image of a deity, just a simple wooden structure or gateway (torii) in the shape of the Greek letter pi.  The torii on the large rock would allow a person to climb through this sacred, purifying entrance.  Those two inseparable rocks, so closely associated with Shintō, are a fine example of the Japanese wabi and sabi aesthetic.
Further on at Toba Harbour we walked over the bridge to a small island where Kokichi Mikimoto (1858-1954) famously produced cultured pearls.  The island has become a slick (and expensive) pearl museum with a shop selling Mikimoto pearls.  There was a scheduled demonstration (performance) by three women divers clad in outdated white diving suits.  They jumped off a boat into the sea with their baskets and proceeded to dive and bring up pearl shells.   It was a reminder of the ways of old Japan but we were unimpressed by the commercialisation of this soulless place … and we had missed the 3.16pm train back to Kyoto.
I travelled to Japan to experience ancient Japanese traditions relating to art and rituals such as the tea ceremony and the worshipping of cherry and plum blossom, symbolic of the brevity and fragility of life. The 'wedded rocks'are not fragile or impermanent (they'll be around for a long time), and they are not just two ravaged, irregular rocks created by nature which satisfy wabi and sabi qualities.  They are a sacred place imbued with enduring significance, and the spirit of kami – a work of art cloaked with a mantle of meaning.