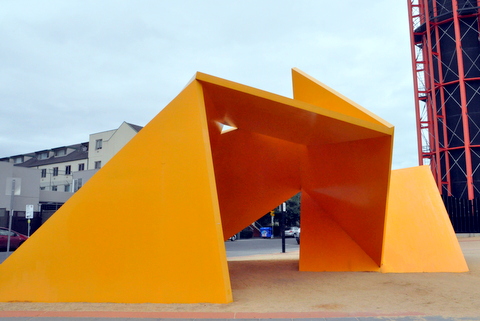 Melburnians have their favourite hang-out places: a lane, an arcade, an outdoor café, an open square, a grassy knoll, a river bank; many are just content to wander. Most 'places' are graced by some form of public art such as a statue, painted poles, murals, a sculpture, or that contentious form of art, graffiti. In 1980 a sculpture called 'Vault' (branded 'Yellow Peril'), was not well received by the public when it was installed in the City Square. The creator of this modernist artwork, Ron Robertson-Swann, was appalled when Vault was banished to Batman Park for two decades before reaching its 'final' destination in front of the hip, neo-modern Australian Centre for Contemporary Art (just south of the National Gallery of Gallery). Vault, with its bright yellow geometric planes, is an excellent counterpoint to ACCA's rusty, organically-shaped surface.
Melbourne's street art is flourishing because the essence of this city is on the street—life is anchored to the ground and not focused on the dizzy heights of soaring skyscrapers. Thanks to the rigid Hoddle Grid (Robert Hoddle designed the layout of Melbourne in 1837), the streets of Melbourne are easy to navigate, but it's the lanes and 'Little' streets branching off this grid that play an important role in creating intimate places, inviting people to not only interact with each other but also with the prolific public art. London's Daily Telegraph journalist, George Augustus Sala (1828-1895) walked the streets of Melbourne and coined the best-known description of this city: Marvellous Melbourne. He wrote: "It was on the 17th of March, in the present year of Grace, 1885, that I made my first entrance, shortly before high noon, into marvellous Melbourne".  At this time Melbourne was developing into a major world city of cultural and artistic significance as a result of the 1850s Victorian gold rush.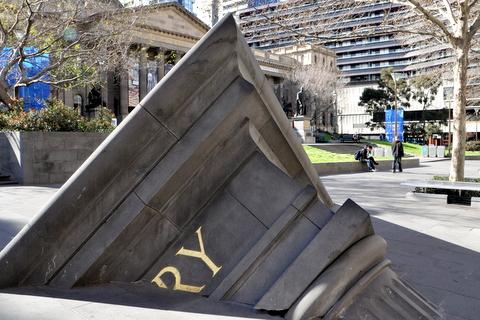 There isn't much grass within the Hoddle Grid so you will see Melburnians flocking to the grassy knoll outside the neo-classical façade of the State Library of Victoria (built during the gold rush) in Swanston Street.  The grass is conducive to snacking and gossiping with friends while interacting with 19th century bronze (and very British) statues such as St George and the Dragon (1889).  Jeanne d'Arc is an exception (and a favourite of mine); a 1906 life-size bronze cast of the 1874 statue by French artist Emmanuel Fremiet (I've seen the gilded original in Paris).  The diminutive Joan of Arc is resplendent in her battle armour, riding her powerful war-horse, and holding aloft her war banner (photo below).  When this statue was installed in 1907 there was controversy over the decision to purchase a statue sculpted by a French artist, particularly one which honoured a French heroine who fought the English!  A few steps down towards Swanston Street and you will encounter the 1992 bluestone sculpture, Architectural Fragment,on the footpath. During 1992 the City of Melbourne initiated a revival of public sculpture (it probably took a decade to revive public art after the disastrous reception of Vault) and Swanston Street was the target due to its transformation into a precinct for pedestrians. Petrus Spronk (born 1939 in The Netherlands, arrived 1957 in Australia) created Architectural Fragment to stimulate a discussion about the relationship between art, history and place. The sculpture looks like an archaeological remnant of the State Library facade emerging from (or submerging into) the pavement.  Just a few steps further on are three painted poles by Jennifer McCarthy which were also commissioned in 1992.  The poles add colour and a decorative, light-hearted element to this serious end of Swanston Street. They are examples of street art that will be left to fade with time, or removed when the poles need to be replaced.  This form of public art stimulates discussion about the passing of time, whether these forms of art should be preserved, and how art connects with place. Melbourne artist, Lisa Roet (born 1967), sums up her opinion of the role of public art in public places:
Public art should have an individual and clear artistic vision in character with the artist's art practice. It should neither be decoration nor an accessory for a piece of architecture, but intelligently combine the environment where it is to be placed.
The murky brown Yarra River marks the southern boundary of the Hoddle Grid and it is often referred to by locals as a river flowing upside down.  The local Aboriginal (Wurundjeri) people appreciate the ethereal beauty of the Yarra, naming it Birrarung: 'place of mists and shadows'.  Birrarung Marr is another meeting place for Melburnians on the northern bank of the Yarra (just down from Federation Square) with Deborah Halpern's wonderful 10 metre high mosaic sculpture, Angel (1988), in central position.
Melbourne is a carefully woven tapestry with many fine threads; a city with interconnecting places of respite enriched by a range of public art. Even though there still may be a yawning gap between artistic vision and public taste, walking through Melbourne today would surely give the impression of a city (the most liveable city in the world) that encourages personal interaction with its art and architecture.