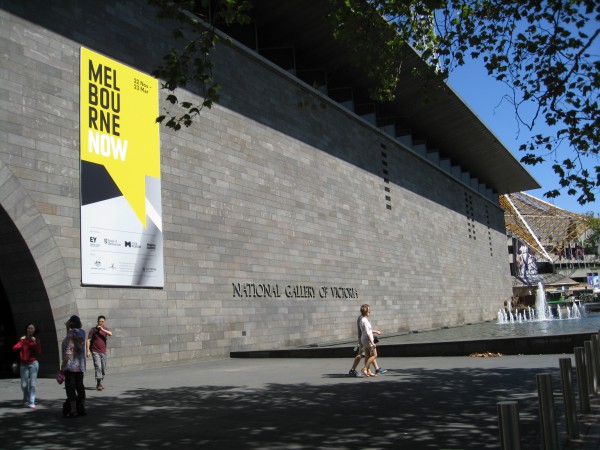 At its core, Melbourne is a labyrinth: a network of streets and back alleys connecting spaces and places that give this city an intimate personality, an undeniable energy, an edgy culture, and a strong sense of community. How can this be denied when 'Melbourne Now', the biggest exhibition of local contemporary art ever staged at the National Gallery of Victoria (NGV), is drawing unprecedented numbers of interested visitors? The maze-like density and sensory intensity of art on display reflects the buzz and the intimacy of Melbourne's laneways. The shroud of elitism that has historically cloaked art galleries has been cast off by this exhibition, with its determination to respond to Melbourne's incredibly diverse art scene and to build audiences through its user-friendly approach. NGV staff and curators were sent out like disciples of the new director, Tony Ellwood, to comb inner Melbourne and its fringes to seek out art and design projects being produced by a host of artists tucked away in their studios and artist collectives. The result is a mammoth survey of Melbourne's contemporary art and creative practice that includes architecture, performance, fashion, video production, publishing, design and dance.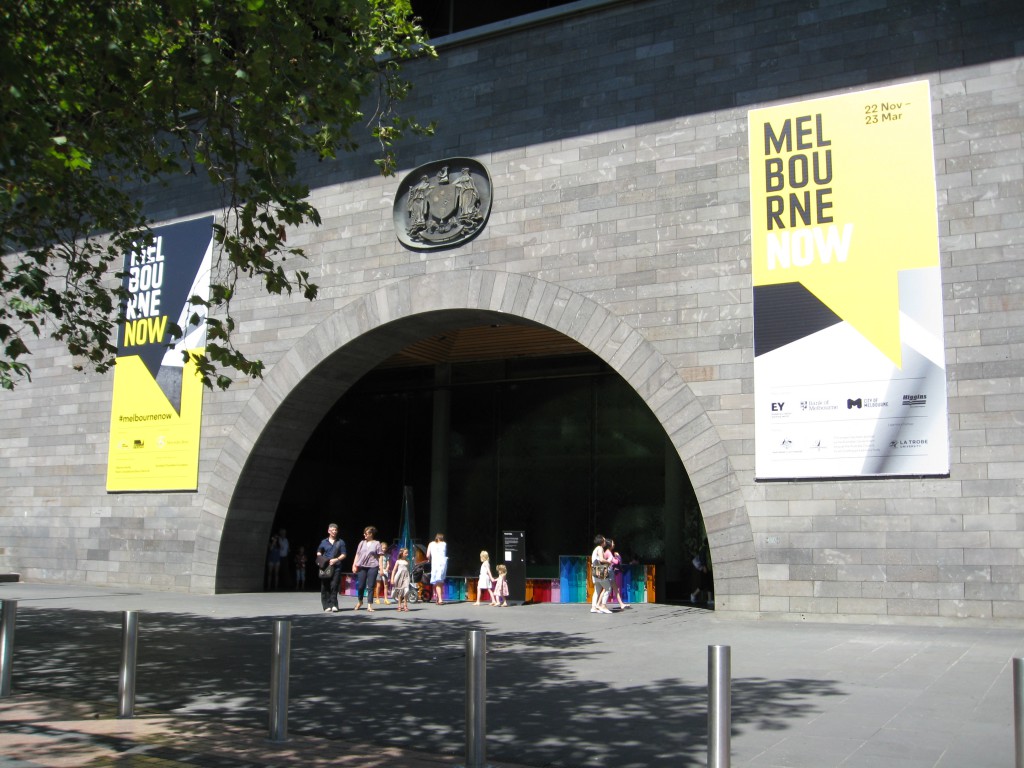 Spread over a number of venues, including streets and alleyways painted with new graffiti, the hub and heart of 'Melbourne Now' can be found at the Ian Potter Centre (NGVA) at Federation Square, and NGV International (NGVI) across the river. These buildings are bursting at the seams with more than 250 works of art that map and document the creativity of Melbourne, telling stories and revealing new signposts in art. A video work created for 'Melbourne Now' by Daniel Crooks—An Embroidery of Voids—takes the viewer through Melbourne's laneways, capturing the essence of this city's inner life—the good, the bad and the ugly—in his celebrated 'time-slice' treatment that splices and rearranges footage into seamless shifting images. Using a 'slice' of an image or frame of a video, Crooks stretches and distorts reality. There are no personal narratives here, just a sense of time passing as the viewer is drawn into this mesmerising journey.
Journeys can be mapped, and maps can be related to the ways we make sense of our world and the place in which we live. Melbourne artist, Jan Senbergs (born Latvia 1936, arrived in Melbourne as a nine-year-old), is inspired by the illustrative maps of the past that include a visual feast of monsters, shelters, elaborate buildings, vegetation, and incredibly imagined natives—rarely an ordered sense of place. These fascinating 'picture-maps' with their limited cartographic knowledge are replete with imagination and speculation. A large map of the world painted in 1448-50 by the early Renaissance monk, Fra Mauro, on the island of Murano near Venice, is an intricate and elaborate artwork, where the imaginary and the recently discovered parts of the world are brought together and annotated with over 3000 inscriptions. (You can see this incredible map on display at the Canberra exhibition, 'Mapping our World'.)
Jan Senbergs' art practice continues this tradition of early picture map production by creating maps of cities in his familiar graphic style—the impact of man-made structures on the natural environment are recurrent themes in his art. Senbergs' interest lies in the visual nature of urban life, not necessarily in the functionality, nor does he include human figures or bother about narrative. Drawing inspiration from Scottish poet Edwin Muir's 1949 collection, The Labyrinth, Jan Senbergs' large 'quartet' work for 'Melbourne Now', Extended Melbourne labyrinth (located on the ground floor at NGVI), renders on paper, in his distinctive style, the seemingly never-ending network of sprawling buildings and streetscapes of Melbourne, providing a visual interpretation of Muir's poem, and in particular, the last few lines:
That was the real world; I have touched it once, 
And now shall know it always. But the lie, 
The maze, the wild-wood waste of falsehood, roads 
That run and run and never reach an end, 
Embowered in error – I'd be prisoned there 
But that my soul has birdwings to fly free. 
Oh these deceits are strong almost as life. 
Last night I dreamt I was in the labyrinth, 
And woke far on. I did not know the place.
Senbergs' contribution to 'Melbourne Now' continues at NGVA: Show Us Your World. This project combines the artist's enjoyment of children spontaneously creating visual representations of their immediate world with his interest in historical maps. On a large curved wall in the room just behind the reception desk in the foyer, Senbergs' 'picture maps' merge with reproductions of medieval maps and Aboriginal paintings (that can be likened to aerial maps of ancestral places). Children are invited to draw pictures of their world, imagined or real. These picture maps are then pinned to the wall to create an extensive visual documentation that constitutes a myriad of places combining to form a complex urban network.
NGV senior curator of contemporary art, Max Delany, provides a relevant explanation of why artworks such as these are included in 'Melbourne Now': "We are interested in the way the city influences artists and designers and how artists and designers shape the city. Inevitably with an exhibition that considers a particular place, the psycho-geographic character of a city is important." By psycho-geography Delany means something more playful and responsive than you might find on Google Maps or in a street directory. This is mapping that not only articulates personal narratives, but that also considers how artists, architects, designers and performers might chart spaces and familiar places in new ways. You can download a free PDF called 'Places and spaces' which provides a comprehensive overview of the art on display that expresses the artists' responses to places that have personal, social, cultural or historical significance.
You have until March 23rd to experience this bold exhibition that will capture your senses and alert you to the variety of art that is being produced in this city. Some works will inspire, others will leave you mystified, but there is no doubt that you will be left with lingering visions of what may be on the art agenda tomorrow. 'Melbourne Now' is certainly a conversation starter.
A final word from
Max Delany:
At its most ideal, a work of art will produce the as-yet-unnamed, encouraging us to embrace change, ambiguity and the unknown. Contemporary art encourages utopian and critical thinking, invokes pleasure and the realm of the senses and involves poetic and technical dexterity, memory and empathy, freedom and imagination, as well as hard-headed rigour, truth and commitment.
Jan Senbergs:
Art terms have come to have new meanings – such as 'contemporary art' meaning usually work done in the new and many forms of our new technologies . . . It is not enough just to be fascinated by new possibilities and claim some 'cutting edge' position, as there is a lot of so-called contemporary art around which is really just 'novelty' art claiming seriousness. As ever it's important to make aesthetic judgements as you would ask of painting and drawing and so on.