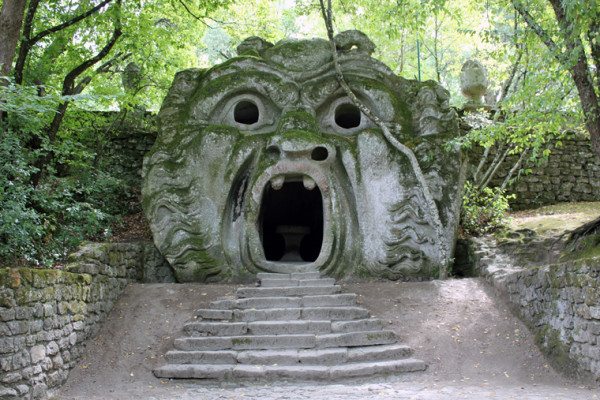 Unprecedented mass surveillance and the implications for our private lives, now and into the future, are scary—invisible monsters inhabit the built environment, listening and taking note. Gardens can be our escape, however bizarre. In my mind I make a return visit to one of Italy's most mysterious and ingenious sixteenth-century gardens: Sacre Bosco in Bomarzo, 42 miles north of Rome. This garden, constructed by Pierfrancesco 'Vicino' Orsini between 1552 and 1588, not only provides a welcome reprieve from modern living but also a potent reminder of a confused and threatening world. Perhaps this was the intention of Orsini as he commissioned the scattering of rock-cut figures, mythical creatures and animals throughout the shady groves and untamed shrubbery of his garden.
I recall walking through this wondrous garden on a cold wintry day in January 2009, immediately following a visit to Villa Lante nearby, another garden created around the same time and also intended to surprise, but not to the same degree. The wonderful play on the ambiguity of reality and art is very much in keeping with Mannerist art, which was an overwrought response to the harmony of the Renaissance art.
Renaissance Roman gardens of the early sixteenth century were an ordered art form, an expression of symmetry and classical austerity. But in the second half of the century man's power over nature faltered, and nature was represented by an uncontrollable, unseen force that was secret and magical, often inciting fear and surprise. These conflicting emotions exemplify characteristics of Mannerism in gardens like Sacre Bosco, wilfully rejecting order and proportion to uncover the marvels of nature in its raw state.
According to Luke Morgan, monsters were key figures in Renaissance culture, ciphers for contemporary anxieties about normative social life and identity. In other words, the presence of monsters was not incidental but an essential feature of the experience of garden. An inscription chiselled into the pedestal of one of the carved enigmatic sphinxes that once flanked the entrance to the garden at Sacre Bosco asked the visitor whether the 'many marvels' there 'have been made by delusion or merely by art'. This is what is so magnetic and mysterious about Sacre Bosco (Sacred or Holy Wood): no-one has been able to nail Orsini's intentions; thank goodness he didn't have access to the Internet—obscurity is beguiling.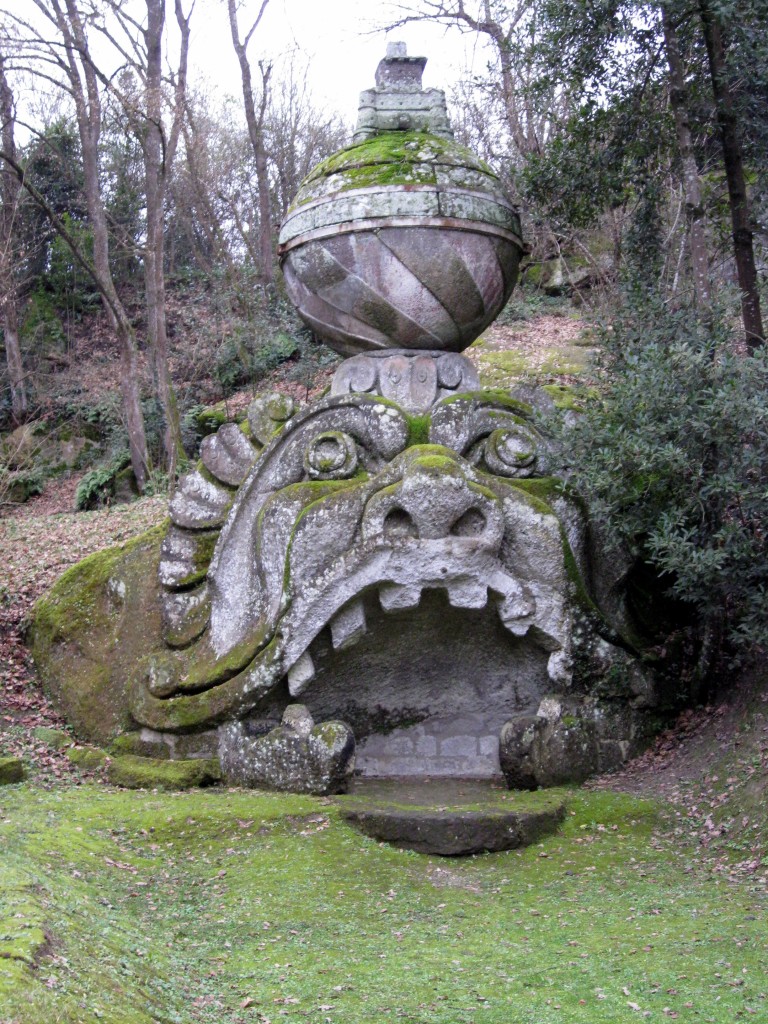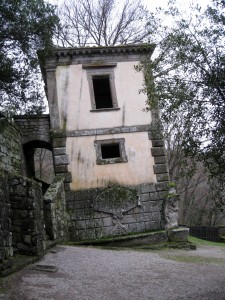 The site at Sacre Bosco has no definitive route, and so the visitor can wander at will without direction or end-point. Many of the ornamental elements are scattered throughout the wild garden and a full understanding of the layout and carved objects is almost impossible. Let's start with the grotesque Mask of Madness with an uncanny Aztec-look about it (photo above). This rock sculpture is 7.5 metres high balancing a large sphere on top engraved with the Orsini arms and capped with a small turreted castle: a highly curious combination, which is indeed a mysterious marvel, and not easily decoded.
Perhaps the most iconic and monstrous of the 'marvels' is Hell Mouth (or Hell's Mask; featured photo), with its open mouth, flared nostrils, blunted protruding teeth, and wide dark eyes; a grotto cut into the hill supporting the upper terrace. This grotesque face is obviously intended to terrify visitors, daring them to climb the steps and enter the gaping mouth. The crumbling inscription around the lips translates to 'Abandon all thought, you who enter here'. It is a play on a line from Dante's 'Divine Comedy' (although Dante's damned are told to abandon all hope). Inside the mouth, the tongue doubles as a dining table—I imagine that if we enter empty-headed and empty-handed (no mobiles!), and enjoy witty conversation, hearty food and earthy fragrances, then leave without being consumed by Hell as one of the damned, we would have learned more about ourselves and the world—a monstrous idea?
The Renaissance was pre-occupied with ideas about the relationship between the universe, humanity and the world humans occupied. Accordingly, Sacre Bosco's rock-carvings are endowed with a multiplicity of symbolic, and often ambiguous, meanings . . . He who does not walk through this place with raised eyebrows . . .
A tilted two-storey garden pavilion, with interior floors that even slant, makes one feel insecure. The lower storey has been carved out of rock and at the base a sculpted bear (orso in Italian), the symbol of the Orsini, supports the coat of arms.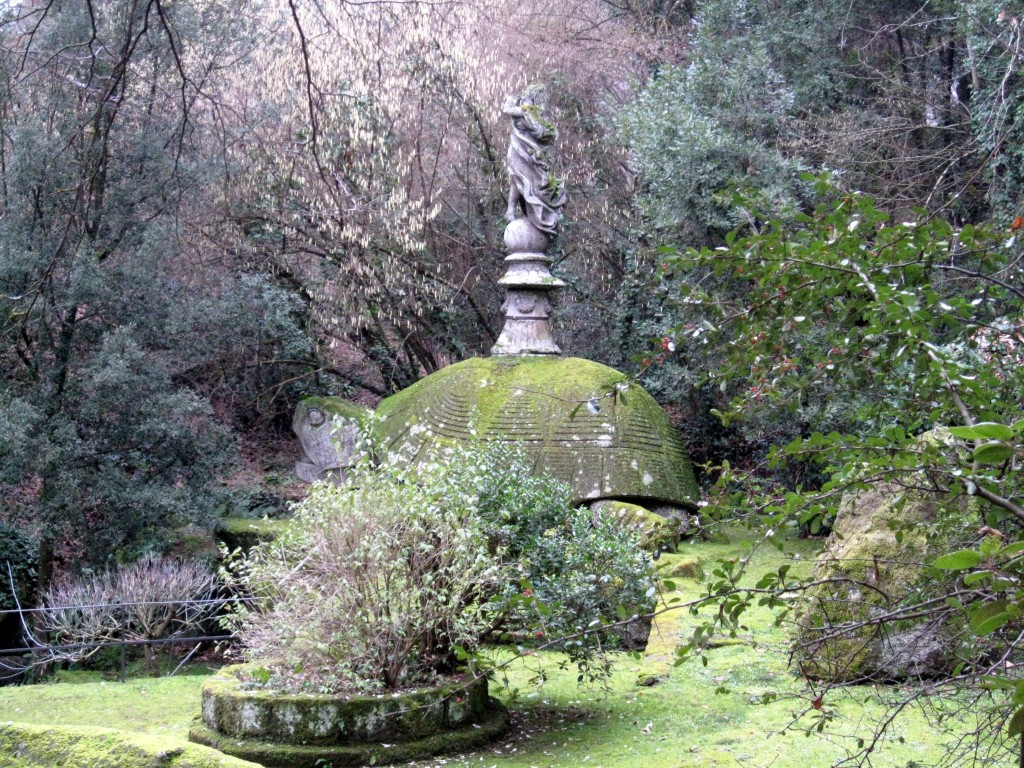 A gigantic stone tortoise carries a winged female figure of (possibly) Fame draped in swirling fabric; her face and hands are now missing. She was blowing a pair of long trumpets.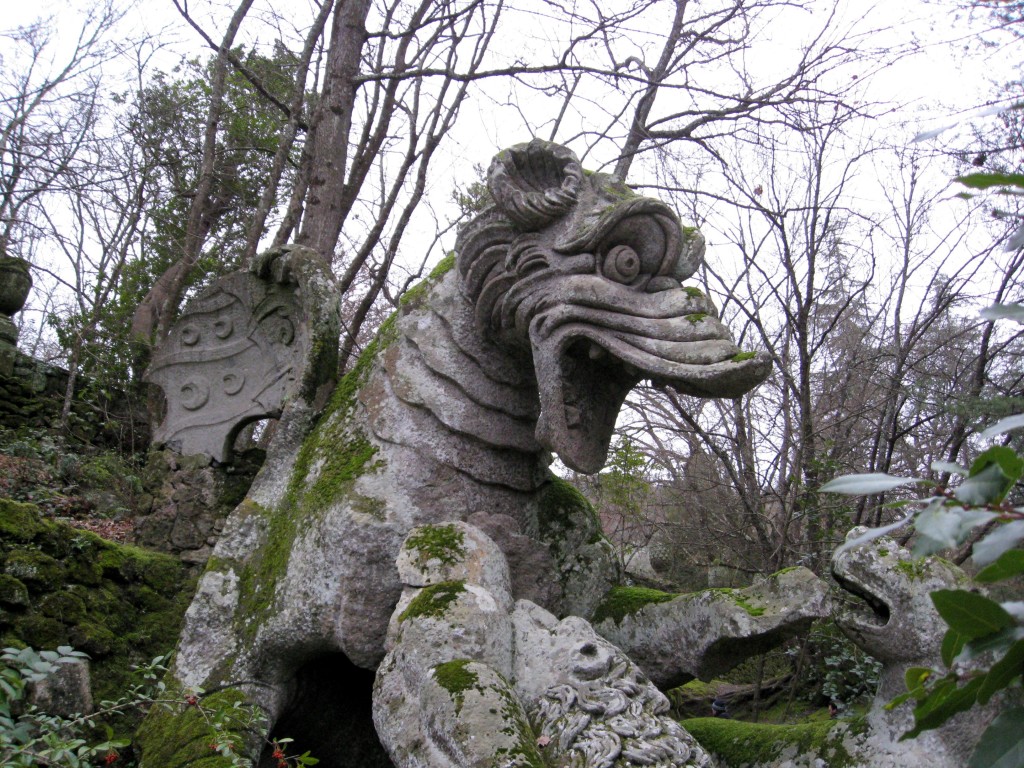 A winged dragon attacked by a lion and a lioness (same say a dog) is carved out of a rocky outcrop below the second terrace.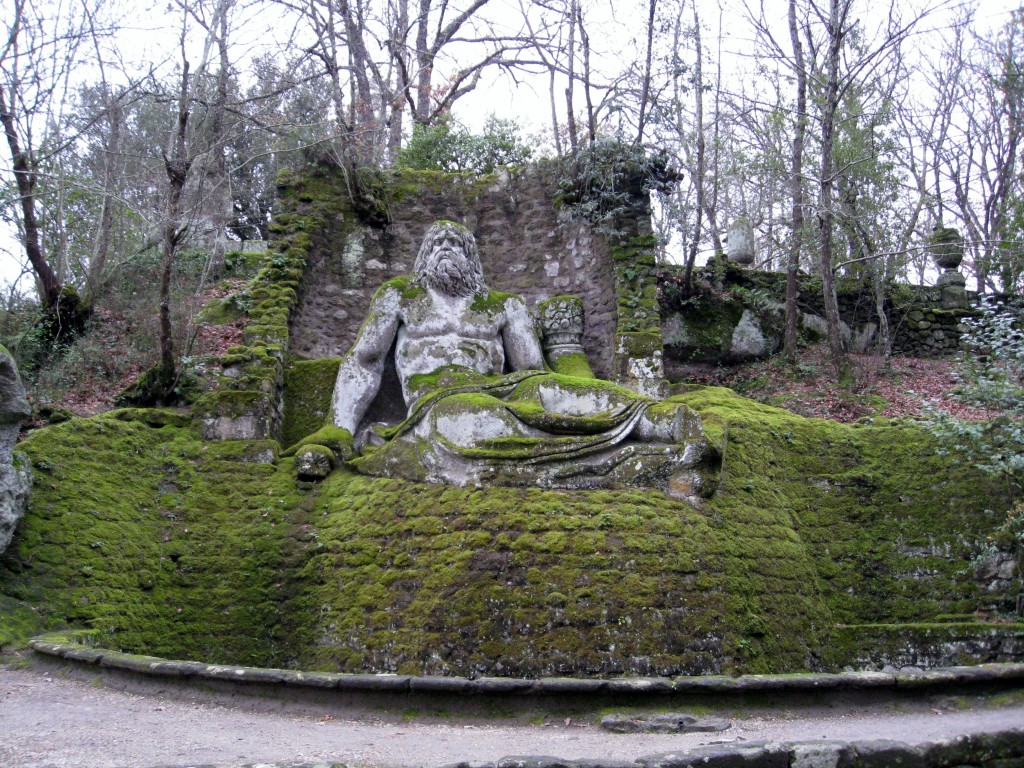 A river god (or Neptune) is seated on a semi-circular basin and cut out of rock supporting the terrace. I imagine this was once the site of a gushing fountain as seen in nearby Villa Lante.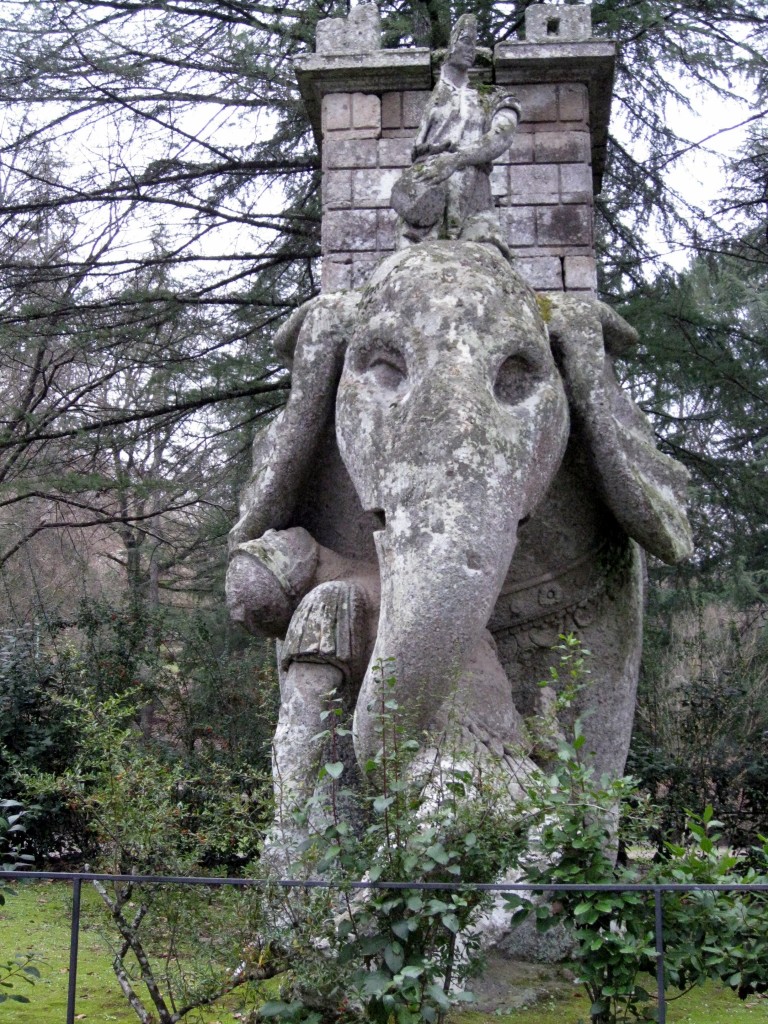 A life-size statue of an elephant carrying a castle on its back with a blanket decorated with Orsini symbols and guided by a driver seated behind its head. The elephant grasps the body of a dead Roman soldier with its trunk.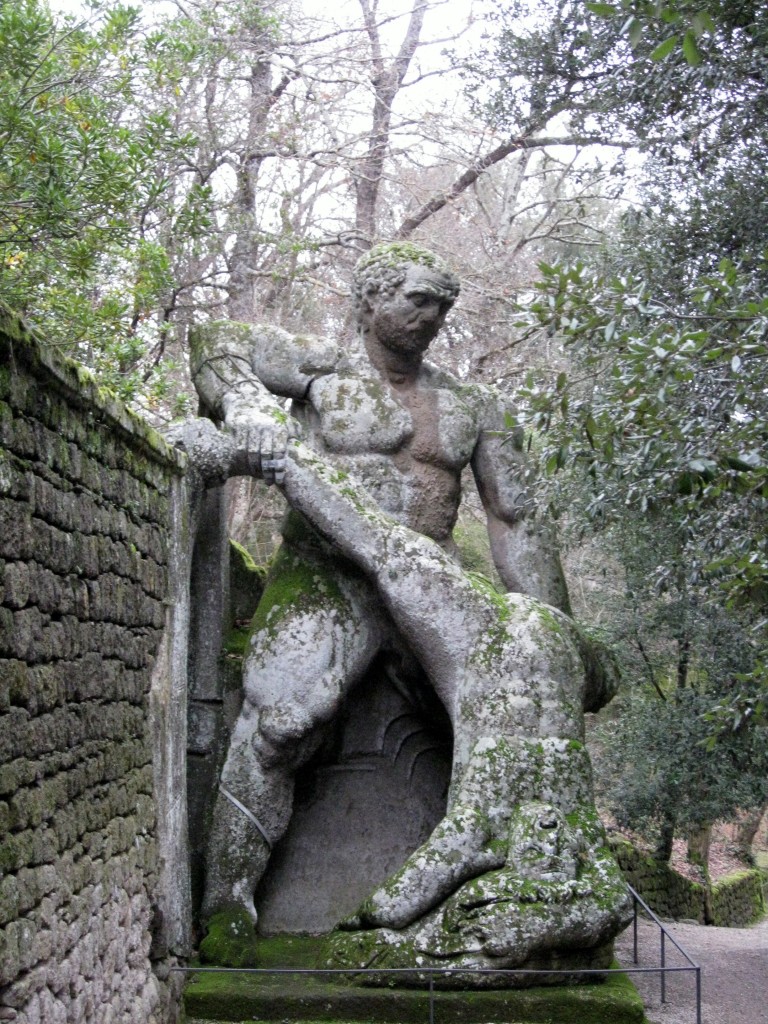 The muscular, bearded colossus (some say the insane Orlando) is tearing an upturned youth apart.
And so Orsini's enchanting wooded hillock, with its mysterious sculptures, reflects the ingenious ideas and interests of a complex individual. His fantasy garden alludes to a world with ancient 'marvels', constructed with images and references to stimulate the visitor's creativity, even if that visitor is not enlightened with knowledge of philosophy, ancient history and literature. These monstrous marvels enable today's visitor to escape for a while to contemplate a world without mobile phones and the intrusion of an all-seeing eye. Orsini entices us to search for our own place, our own Sacred Wood, "which is only itself and resembles no other". What has stayed with me long after my journey through this evocative and obscure garden-forest is the inscription:
"Only to lighten the heart"
References:
Morgan, Luke, The Monster in the garden: The Grotesque and the Gigantic in Renaissance Landscape Design, University of Pennsylvania Press, 2015.
(Associate Professor Luke Morgan is Senior Lecturer in Art History and Theory at Monash University. He also taught art history for a short time at The University of Melbourne)
Coffin, David R., 'Art, Nature, and illusion', in Gardens and Gardening in Papal Rome, Princeton, New Jersey, 1991.
Apart from the featured image of Hell Mouth (photo by Luke Morgan), all photos were taken by myself on 14 January 2009. I hope you're inspired to read more about Sacre Bosco, and better still, if you haven't already, visit this stupendous Italian garden.