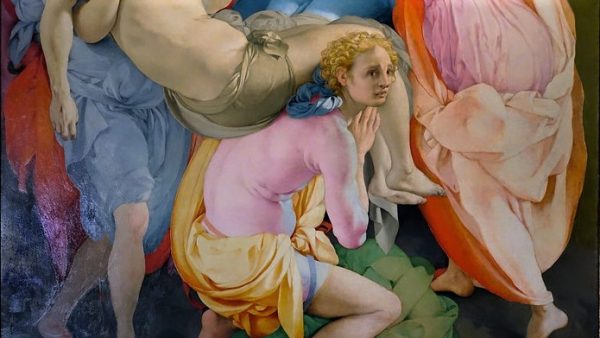 And so, the end of 2021 draws near after another year of living with a global pandemic. Life has been tough and colourless for so many. I've been fortunate to find colour in the writing of so many talented authors as they refine their unpublished manuscripts—both fiction and non-fiction. And although I don't get much time to read published novels, I was encouraged to read Sarah Winman's colourful new novel, 'Still Life'. The character-driven story begins in August 1944 near Florence, with the Allies final push to take the city back from the Germans. The finding of Jacopo da Pontormo's painting 'Deposition' (c.1528), stored for safekeeping in a nearby villa, took me back to the colour and sizzling heat in Florence on the afternoon of 18 July 2007 when I flew through the door of the rather non-descript and gloomy Santa Felicità; it was 4:50pm, ten minutes before closing. It was eerily empty of people.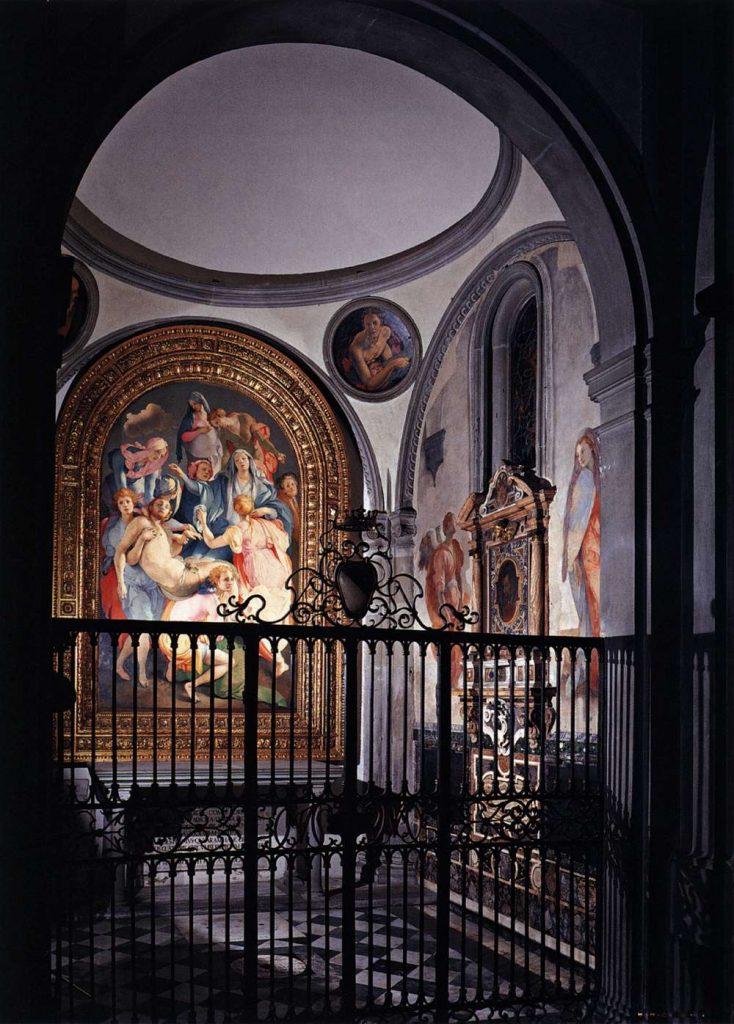 There it was to the right of the entrance: the altarpiece 'Deposition' (or 'The Descent from the Cross', however, there are many other interpretations of the subject) in the Capponi Chapel painted by Jacopo Carucci da Pontormo (1494 – 1557) between 1526 and 1528. I had to view it through black wrought-iron bars, but the dazzling colour and tangle of bodies barely contained within the frame, was eye-popping. I am not a religious person, but I have mused for nearly two decades on this energetic visual narrative that 'paints a thousand words' about grief and trauma.
I had been drifting around Florence that day . . . "We will simply drift", says Miss Lavish to Lucy Honeychurch in E.M. Forster's 'A Room with a View' (1908). Lucy joins Miss Lavish, an eccentric novelist, to find the church of Santa Croce in Florence. The two women soon become lost. Lucy tries to consult her Baedeker travel guide, but Miss Lavish will have none of it. She tells Lucy, "No, you are not, not to look at your Baedeker. We will simply drift." They eventually find Santa Croce, but Lucy lacks the confidence to make her own judgments about art; she longs for her Baedeker guide so that she can know "good art" from bad. Lucy wants to know which frescoes have been pronounced by the critics to be "truly beautiful".
In Winman's 'Still Life', art historian Evelyn Skinner tells Ulysses, the young English soldier, that Pontormo's 'Deposition' is "a painting that demands a response. All the best ones do." And she goes on, "Our turmoil is revealed in those painted faces . . . art becomes a mirror." But Evelyn adds, "Beautiful art opens our eyes to the beauty of the world, Ulysses. It repositions our sight and judgement. Captures forever that which is fleeting." So, although 'Deposition' is about grief and suffering, there is beauty to be found in the art itself, in the colour, and in the compassionate gesturing and supporting of Christ. Similarly, the relationships in 'Still Life' are acutely observed—friends supporting one another during tough times with lots of humour, insights and optimism for the future, but conveyed with Winman's unsentimental intelligence.
Ulysees is fascinated with Evelyn Skinner's analysis of 'Deposition', and articulates his own interpretation to a Florentine man whom he saves from committing suicide. "It's about grief. Oldest story in the world . . . They're trying to make sense of something they can't make sense of . . . And all you're left with is the silence. And the sorrow. And your pulse races."
An extended period of personal disillusionment and loss can often lead to an intense period of creativity when one can again see the colour of life afresh. I am grateful that Sarah Winman has gifted us 'Still Life' this year. She has enabled us to walk the streets of Florence and encounter the colour of Italy, which she contrasts with the colourful characters of London's east-enders as they try to make sense of the aftermath of the devastation and inhumanity of war.
The explosion of vibrant colour and inventive kinetic structure in Pontormo's paintings trumpeted the move from the harmonious, balanced compositions of the High Renaissance to the controversial art-historical period (approximately 1520 – 1600) called Mannerism. Many art historians suggest that Michelangelo led the way with his preference for bright colour and exaggerated, contorted poses. Take for example Michelangelo's exquisite Libyan Sibyl (image below), which he painted on the ceiling of the Sistine Chapel nearly twenty years before Pontormo painted 'Deposition' (and which Pontormo would have probably seen when he visited Rome in 1511). The beauty and grace captured within the colour and rhythms of the sibyl's powerfully rendered, twisted body as she holds up her book and looks down, conforms to the art-historical sense of maniera.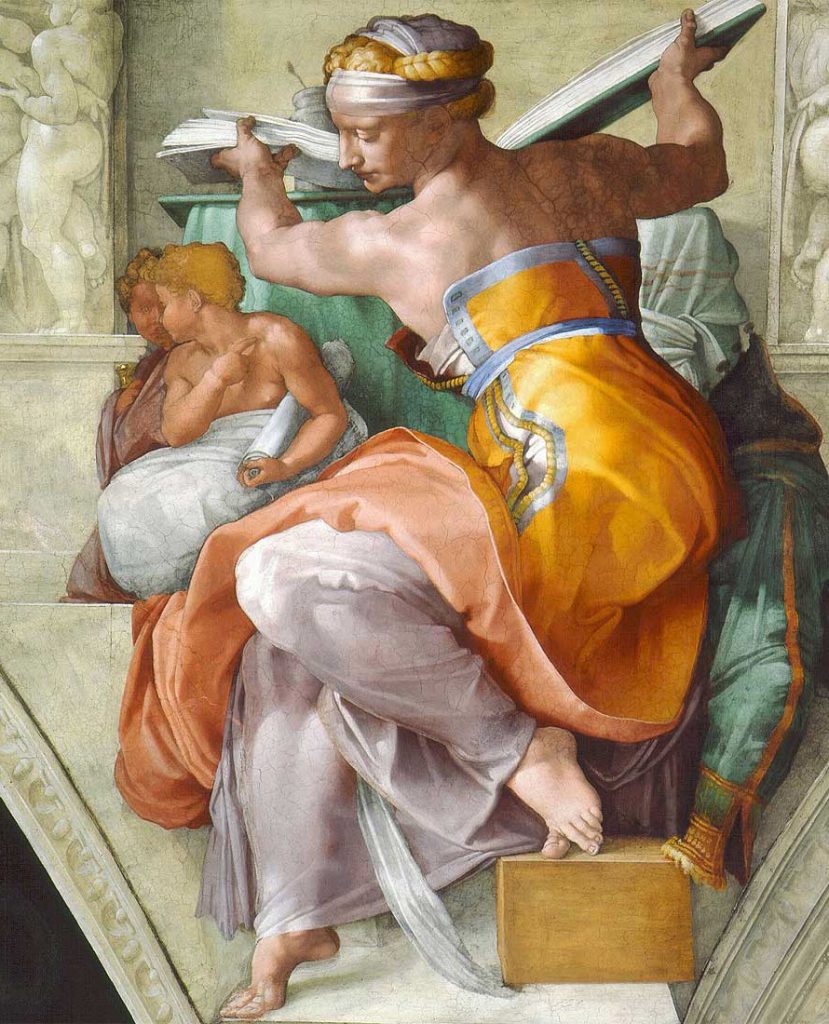 The notion that Mannerist art not only discarded the harmonious compositions and softer colours of High Renaissance Classicism, but intended to shock, can perhaps be partially understood in terms of the turmoil of the time. The Protestant Reformation, beginning in 1517, sparked a spiritual and religious crisis. And after the death of Raphael in 1520, a so-called decadence crept into Italian art, particularly in Florence and Rome. Then there was the Sack of Rome in 1527.
Pontormo's choice of incandescent colours exaggerates the variety of poses in 'Deposition' to create an intense 'dialogue' and tension among the figures, heightening the emotional drama. Overall, the skin colours are harmonious—except for the young man crouching and holding Jesus' legs: his back is an iridescent pink (detail shown below).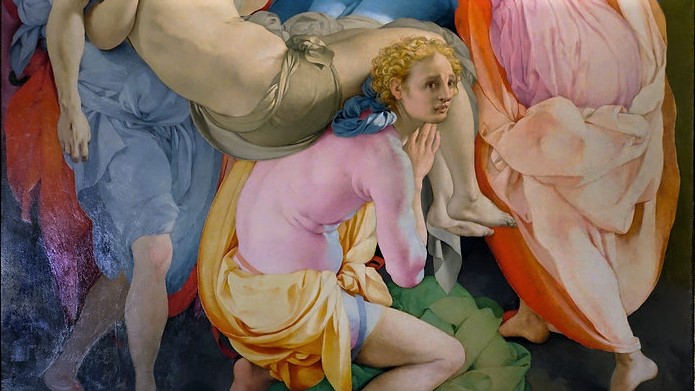 The bodies more or less displace the space and crowd the composition, pushing into the viewer's space and blotting out the setting so there are no definitive clues as to the subject matter. The rotational movement adds to the confusion and creates a swooning effect, even for the viewer—it wasn't just the heat that affected me when I was looking at this painting in-situ. However, most viewers would guess that this is depicting the moment when Christ has been taken from Mary's lap following his removal from the Cross; she is swooning as she gestures towards her Son. One can only imagine that the figure at the top of the painting dressed in an olive-green garment with a red cloak is that of Mary Magdalene peering down at the seemingly weightless figures expressing their grief. The bearded man on the right wearing a hat, and looking dreamily at, or even past, the viewer, is thought to be Pontormo's self-portrait (detail below). There is ambiguity, but the artist has given much thought to the composition, which has resulted in an image of psychological sensitivity. I can think of many comparisons with the writing of psychological fiction, which builds the narrative around the interior lives of the characters.
For centuries, European art was primarily commissioned for churches, intended to convey Bible stories and events featuring the Passion of Christ. These 'stories' could be 'read' by the illiterate, allowing them to contemplate the messages, and in doing so, enrich their devotion. This art wasn't created for a museum context in which we now, probably for the most part, encounter it. So, stumbling upon a timeless work of art in the place where it was originally created, and without the use of a guide book, is always exciting.
I hope I will return to Florence and revisit Santa Felicità. But will my next engagement with Pontormo's luminous and meditative 'Deposition' be the same experience as the first? Perhaps it will be with even more appreciation of this wondrous work of art, which has survived close to 500 years and still speaks of the universal emotion of grief, bursting at the seams with human compassion, and the hope that the colour of life awaits in the wings.
Paused time in ghostly absence. (Still Life, 2021)
A big thank-you to all the writers (and art history friends) who have engaged with me this year. You have contributed to a rewarding, stimulating and challenging 2021; you have helped me expand my view of the world and my relationship to it.
With next year's diary open
on my desk I am rich with the future.
Later . . .
as I work in the garden,
I will be able to say the sunlight fell
exactly on our garden today.
(adapted from Kevin Brophy's poem, 'How to Stop')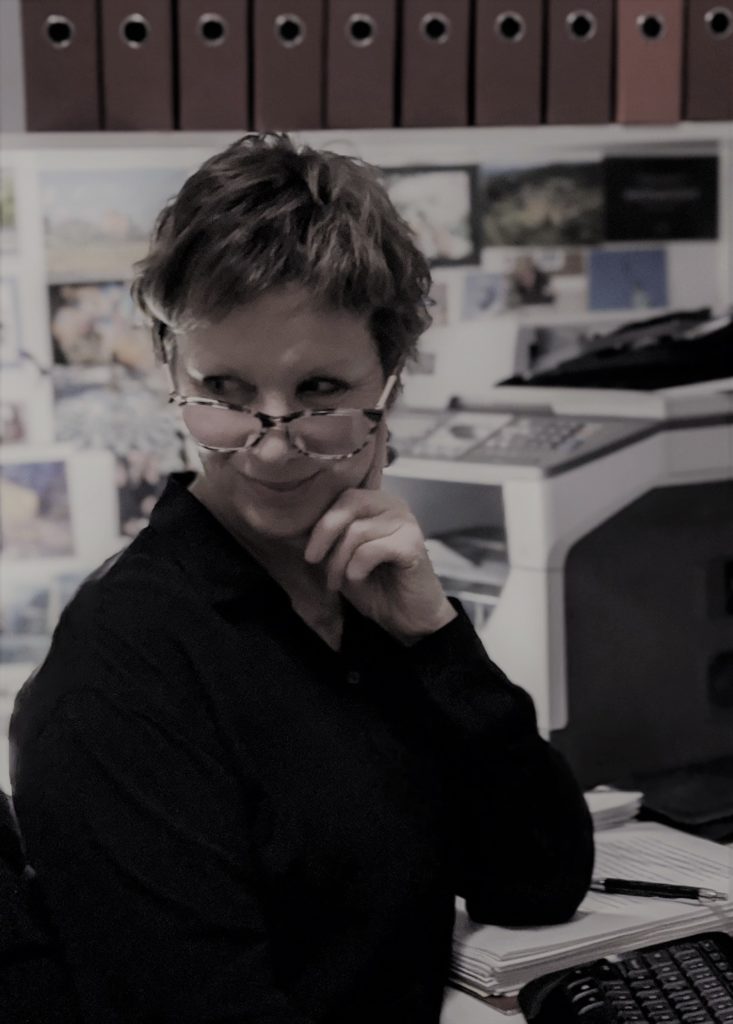 If you would like an assessment of your unpublished manuscript, or if you are ready to have your writing edited, whether it only needs a light edit or a more detailed structural edit, then please email me via my contact page with a brief overview of your specific needs and the word count of your manuscript. My editing is based on the Australian Style Manual (ASM) unless an author has been commissioned to write a book using the publishing house style guide.
This article draws on, and updates, another I wrote in March, 2015: Florence: Jacopo da Pontomo & Mannerism