Walks of Art self-guided walking tours spotlight urban pockets of Melbourne and Europe with a focus on art in galleries, on the streets and in public places. As the tours are self-paced, you can determine for yourself how long you spend at each stop. Sometimes looking at a facade is all that is required, or a lengthier time may be spent at a gallery or church. It's all up to you!
Most of the galleries and museums of art on the tours are chosen because they either do not charge admission fees (except for temporary exhibitions), or if they do, the fee is deemed reasonable by the author. Again, you have the choice.
Each walk includes many works of art with detailed descriptions, a map of the route, opening and closing times of galleries/museums/churches/institutions, photos/images and at least one inexpensive eatery along the way that is a favourite of the author.
The author is mindful of those art-lovers who are confined to a wheelchair. Walks of Art tours consider the ease of wheelchair access along the route.
Traditional travel guide books are expensive, adding bulk and weight to travel bags. They can also be out-of-date very quickly. Walks of Art are distributed as e-guides to smartphones, iPads and Kindles—easy to buy and eco-friendly! The author keeps a vigilant eye on any changes to opening hours, new installations, closures and/or removals of works of art. This means that information can be updated with the click of a button. However, for those travellers who prefer reading print on paper rather than on shiny screens, a pocket-book version of Walks of Art will be available in the near future.
Look out for the next tour in the Walks of Art series which will focus on a pocket in Rome. All tours are intended for those individuals who, like the author, want to experience art … slowly.
Walks of Art No.1
The ART of MELBOURNE: SWANSTON STREET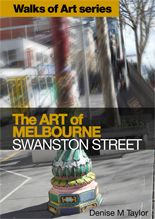 Stroll or tram down Swanston Street, aptly referred to as 'Melbourne's iconic spine', and you will encounter contemporary architecture and street art vying for attention beside nineteenth-century old-school bronze statues and buildings, permanent reminders of Melbourne's early British settlement. There are no visible signs of the people who first inhabited this land; however, you can engage with Aboriginal art in the Australian collection at the National Gallery of Victoria's Ian Potter Centre, at the rear of Federation Square.
This self-guided tour begins at the northern end of Swanston Street: The University of Melbourne's Ian Potter Museum of Art. Before you start, you can enjoy a tea or coffee at the Potter cafe which hugs the north-east corner of the art gallery. Heading south, you will eventually reach the Yarra River where Swanston Street becomes St Kilda Road across Princes Bridge. The green expanse of the Royal Melbourne Botanic Gardens fans out to the left. To the right is the Arts Centre with its spire, and further on, the imposing bluestone building of the National Gallery of Victoria (NGV International) houses a range of international art dating from antiquity through to the twenty first-century. The tour finishes here.
You will engage with many forms of art which 'speak' to each of us differently—a work of art may remind us of the past (a weathered facade or a history painting), represent the present, or project an imagined future. After you finish this tour along Swanston Street, you might ask yourself: Is Melbourne developing a distinctive artistic character representative of its past, present and perhaps even its future?
Walks of Art No.2
The ART of ROME: BEYOND THE PANTHEON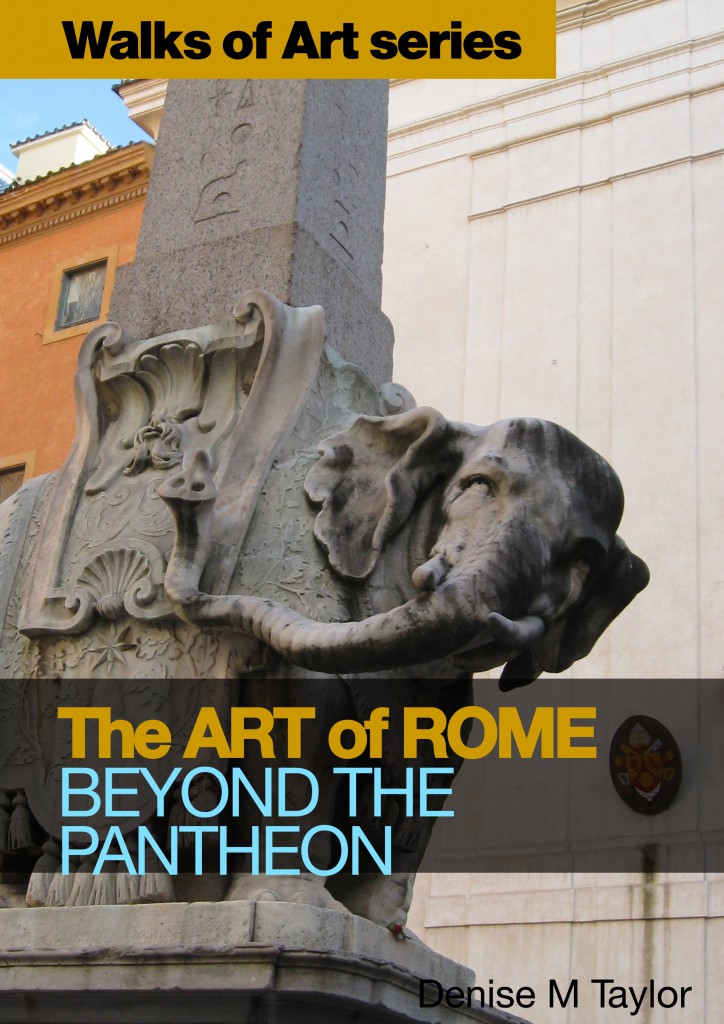 This self-guided tour explores the area just beyond the Pantheon, allowing time to engage with sculptures, paintings and architecture —you may just look at a façade, or walk into a public space or a church—at your own pace and without the jostling crowd. This art is in situ, intrinsically linked to that place, building, street, piazza, and therefore adding meaning.
The ancient temple of the Pantheon is the 'heart' of Rome. A few paces behind the Pantheon in the Piazza della Minerva is a stone elephant with a distinctive personality, and one of the many works of art seen on this walk by sixteenth-century Baroque artist, Gianlorenzo Bernini. The delightful mix of art inside S. Maria sopra Minerva belies its austere façade.  Close by this Dominican stronghold are two Jesuit churches: both Roman Catholic orders were powerful forces in the Counter-Reformation that began with the Council of Trent (1545-1563) and ended in the mid-seventeenth century. Jesuit artists produced art that aimed to inspire devotion in the faithful and non-believers as a means of fighting against Lutheran 'heresy'. As such, much of Rome's religious Baroque art was propaganda, aimed at reviving Catholicism's dominance. The seventeenth-century illusionistic ceiling paintings that you will encounter in the Jesuit churches, Il Gesu and S. Ignazio, are prime examples.
Click on the front covers to purchase!