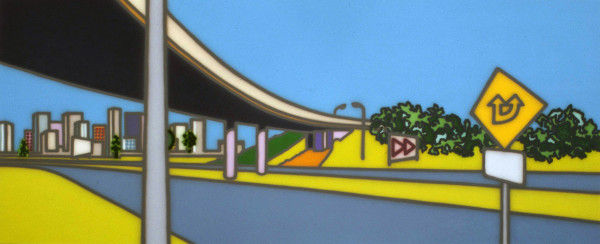 Another Christmas is behind us. January, and a hot, dry Melbourne summer are upon us again. Howard Arkley's air-brushed, brightly-coloured pictorial images of triple-fronted brick veneer Melbourne homes remind me of when I was younger, and the route I regularly walked from the bus stop to the local swimming pool. I would marvel at those cream-brick, highly-prized family havens. Today, such architectural domestic wonders are scoffed at; but for me, Howard Arkley's urban and suburban imagery are quintessential reminders of the challenges of modernity that faced Australians during in the mid to late twentieth century.
The current single-artist summer exhibition at TarraWarra Museum of Art (TWMA), Howard Arkley (and friends . . .), which runs until 28 February 2016, has brought together a praiseworthy, and diverse, collection of Arkley's work. Each of the TWMA gallery spaces within the exhibition embodies a different aspect or focus of the artist's oeuvre. Curated by TWMA's director, Victoria Lynn, and resident curator, Anthony Fitzpatrick, this exhibition displays in excess of 60 works dating from 1974 until 1999, the year Arkley died of a heroin overdose.
Howard Arkley was born on 5 May 1951, and grew up in the Melbourne eastern suburb of Surrey Hills. After finishing secondary school in 1969, Arkley took on a three year art course at Prahran College of Advanced Education. He ended up one of the youthful 'New Wave' artists whose art practice embraced aspects of high art, pop culture, the 'everyday' . . . and punk. Pockets of Melbourne in the 1970s gyrated with the sound of punk music, and Arkley, along with his arty friends, were drawn to its energy and non-conformity. Music, and his network of friends and colleagues, fed his imagination and evolving art. This TWMA exhibition draws on those connections. In most of the gallery spaces there are playlists and earphones through which visitors can listen to the music that inspired Arkley's art practice.
Art historian Chris McAuliffe wrote in his catalogue essay that art historians now recognise the significant connection between art and rock music in the 1970s. McAuliffe suggests that Arkley's whirlwind experience of the art and music scenes in New York, London and Paris in 1977 may have developed his interest in patterns, and the "combination of structural intricacy and improvisation that could underpin abstract painting." Back in Melbourne in 1978, Arkley frequented punk music venues such as the Crystal Ballroom at St Kilda's Seaview Hotel. Together with his friends, Arkley enjoyed bands such as The Boys Next Door (who were later to become The Birthday Party lead by the singer/songwriter Nick Cave).
On display in the first room of the exhibition are Arkley's early black-and-white paintings (his 'White Paintings') such as 'Seltsamer' (1975). The minimalist black markings and blurry effects created with an airbrush on an expansive white background are suggestive of abstract musical notations. In the next room, Arkley's graphic black line becomes more apparent in its decorative and fluid form, the style emulating graffiti and tattooing. Arkley's 'Primitive' series (1981-82; 'Primitive Gold', image below) took its name from a song by a punk band called The Cramps and he interconnects a mish-mash of cross-cultural, primal references through a continuous, organic line. This series marked the artist's move from abstraction to figuration, although his work from this time onwards embraced both stylistic approaches.
From the mid-1980s Arkley used colour for greater effect and broadened his subject matter to include portraits. This exhibition has an interesting selection of Arkley's 'portraits'. 'Zappo Head' (1986), often regarded as one of Arkley's signature images, references a primitive mask; but it has been composed with vibrant colours and is often interpreted as a self–portrait. Arkley actually referred to this sinister image as his own, perhaps alluding to his drug use. The flat, graphic faces of plastic inflatable toys, which Arkley collected, were an influence on this work.
To assist him in developing new ideas for his work, Arkley accumulated an eclectic range of material in the form of visual diaries (about 45), photographs, sketch books, cuttings from magazines, comics, books, home decorator books, catalogues, and even objects such as toys and masks. The State Library of Victoria holds the Howard Arkley Archive and a selection of this source material is on loan to TWMA for the exhibition. Apparently Fitzpatrick spent many hours trolling through the voluminous amount of material, choosing items for display. He noted in his excellent essay that "this rich repository documents, alludes to and elucidates a range of his [Arkley's] ideas and projects from his student years right through his career as a practicing artist." Displaying samples of Arkley's doodles and collages which helped him formulate his final works of art (often on display in the same room) add even greater depth to this thoughtfully curated exhibition.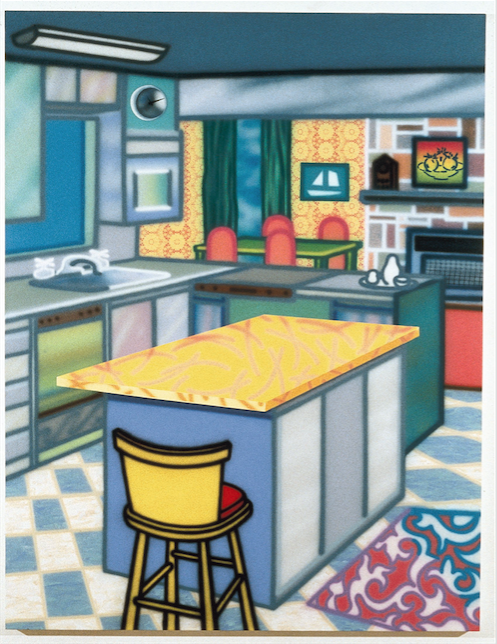 In Arkley's final decade he softened the black-sprayed line with various colours, including soft grey, which is especially noticeable in his images of suburban house interiors with their contrasting shapes and clashing patterns. The lack of human activity and clean lines in these interiors, such as 'Ultrakleen' (1992), add an eerie sense of unnatural stillness to the composition.
In the last gallery space, with its large window overlooking the Yarra Valley, Arkley's paintings of cityscapes, factories and freeways of the late 1990s are at odds with the natural beauty of the landscape beyond the window. One wall within this space displays a multitude of Arkley's photographs of Los Angeles freeways. Arkley's photographs and paintings capture a sense of the rapid development of infrastructure, high-rise buildings and factories within major cities around the world at the end of the twentieth century, with signs and disappearing roads offering a way out.
My final viewing was along the narrow gallery space called Vista Walk facing the west. There were works by Arkley's friends, including some collaborative work, and featuring Alison Burton, Tony Clark, Aleks Danko, Juan Davila, Elizabeth Gower, Christine Johnson, Geoff Lowe, Callum Morton, John Nixon, Kathy Temin, Peter Tyndall, Jenny Watson and Constanze Zikos.
Although his motifs broadened to some extent, Howard Arkley, born-and-bred Melbourne man, remained fascinated with the desire by most Australians to own a humble home on a quarter-acre block. For me, his psychedelic, air-brushed depictions of the exteriors and interiors of suburban homes are his signature art: a nostalgic, and perhaps ambivalent, 'celebration' of life in Melbourne's 'burbs, where close human interaction co-exists with elements of isolation, drabness and dysfunction. Arkley added wit and sparkle to his chosen subject matter through his continuous exploration of colour, line, pattern and shape, and in his response to music . . . all with a little help from his friends.
My thanks to TWMA for inviting me to the opening of this insightful TarraWarra Museum of Art exhibition, and for providing me with material and images for this review. 
Howard Arkley (and friends . . .)
until 28 February 2016
TarraWarra Museum of Art is about an hour's drive east of Melbourne.
Opening hours: Tuesday to Sunday 11am – 5pm